Cardas 4 x 33 AWG Tonearm wire - without shield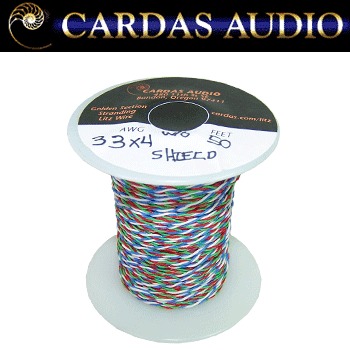 Cardas 4 x 33 AWG Tone Arm wire.

4 differently coloured 33 AWG (0.18mm diameter) tonearm wires, individually screened wires of colours red, green, blue and white. Overall diameter is around 1.25mm. Each conductor has an outer diameter of 0.47mm with a 0.18mm inner diameter. Sold in multiples of 0.5 meters. 
All Cardas wires are litz conductors, whereby each strand of wire is individually enamel coated. For soldering this enamel coating must be removed. This is best achieved using flux and a solder pot to tin the ends. Alternatively, tin your soldering iron with lots of solder and run the wire through the solder on the iron, the coating will melt and you can scrape it off. Litz wire reduces the impact of the skin effect and the proximity effect - great for audio.

Warning: Failure to properly tin the wires will result in a conductor that does not perform correctly. 
Sold in multiples of 0.5 metre. We supply in one continous length.
PRICE, 0.5m length
£12.15+vat+p&p
Subscribe to Hifi Collective