4 x 34 AWG Cardas Clear Tonearm Wire Braid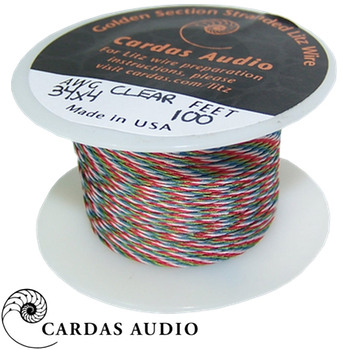 The ultimate tonearm wire from Cardas the Clear 34 AWG is extremely light and flexible. Composed of ultra-pure copper arranged in multi-stranded Litz conductors, and wrapped in ultra-light nylon microfibre instead of an extruded jacket, The result is a nearly weightless conductor that's so flexible your tonearm will barely know it's there.
Clear Tonearm wire is available in several version. Here we have the x4 conductor version with 4 coloured conductors, braided together - white (note it does look pink!), green, red and blue. Also available through Hi-fi Collective is the 4 colour options of a single conductor -available in red, blue, green and white (note it does look pink!) Also, we have the x2 conductor version available in blue and white (note it does look pink!) and red and green.
Each strand of AWG34 wire with a diameter of 0.16mm.
It is essential you watch the tips on soldering link below before you use the wire.
The x4 conductor braided wire is sold in 50cm lengths, we find this to be plenty to wire a tone arm.
Price for a single conductor per 50cm length - £57.76 + vat + p&p
Subscribe to Hifi Collective