WBT-0210 Cu/CuMS nextgen RCA socket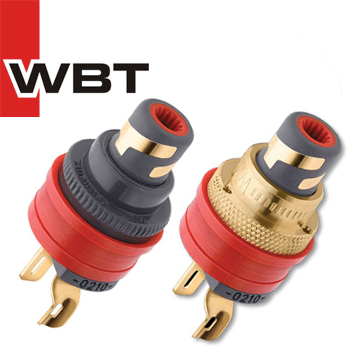 Nextgen™ RCA socket with signal conductor made of pure copper, for chassis mounting.
75-ohm characteristic impedance means that these sockets not only transmit superb analogue signals but also outstanding digital audio and video signals. The transmission bandwidth is 1 GHz.
The contact elements of the connector are made of high-purity copper, one of the best electrical conductors, in order to ensure optimum signal transmission. The metal is gold-plated (nickel-free) so that the surface does not oxidise and impair contact quality.
The inner contact is an active spring contact. The newly developed three-segment tulip contact is pressed onto the central pin of the RCA plug by a surrounding double bronze spring ring. Not only does this ensure reliable contact with non-standardised RCA plugs but contact also remains reliable even after the plug has been connected and disconnected many times over.
The outer contact is in the shape of a double wave which encompasses the socket element made of robust Ultramid*. This wave shape guarantees reliable contact with any RCA plug. In addition, the reduction in the amount of conductor material to the absolute minimum prevents the creation of eddy currents, enabling the WBT-0210 to transmit signals that are totally free of distortion. Eddy currents occur in metal components near to which alternating current flows. These currents can result in major signal distortions.
Mounting insulators are supplied and ensure not only insulated but also twist-proof mounting and polarity identification. Counter nuts and double step washers with lug are also supplied.
Characteristic impedance (typ.): 75 ohms
Connection technology (inside): soldering
Borehole: 12mm dia.
Available with red or white markings.
PRICE 1off (WBT-0210 Cu)
 £22.53 +vat+p&p
These are now also available with metal nuts - Sold individually, referred to as WBT-0210 CuMs
PRICE 1off (WBT-0210 CuMs)
 £28.00 +vat+p&p
Subscribe to Hifi Collective