MS HD Power MS515G US mains plug, Gold plated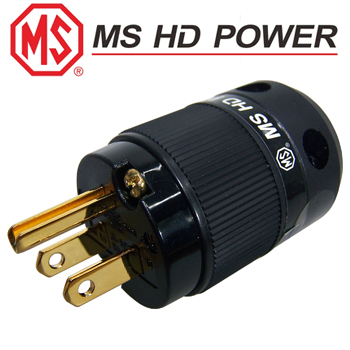 MS HD Power US mains plug, silver plated
An audiophile-quality US mains plug. Designed to Adopt Large Size Power Cables - up to 16mm dia. and capable to fit up to 4mm Diameter wire conductors very securely.
This Schuko plug has high quality 3.0µm 24K Gold plating over the highly polished power pins, and all other power and earth conducting parts, including the wire securing screws.
Complies to CE and DIN VDE0620-1 Safely Standards.
Selected premium quality copper material for all parts and components.
High-Insulation, Durable and Light-Weight Housing, colour black.
Complies with UL safety standards.
Heavy-gauge wire clamps improve power transmission and protect electric-wire damage from fixing screws.
High-insulation, durable thermoplastic housing.
Rated at 15A / 125V
Dimensions (Housing only): Dia.38mm x 51mm
PRICE 1 off
£48.33 +vat +p&p
Subscribe to Hifi Collective