Cardas Power E5 US Mains Plug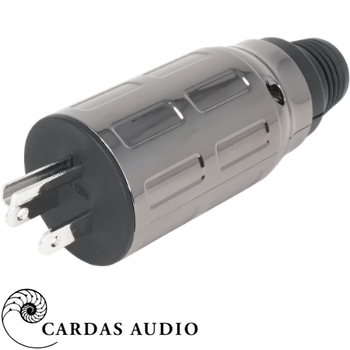 The E-5 connectors have high purity copper contacts, plated with rhodium over silver, and offer heavier-duty termination points for heavy-gauge large diameter cables. The E-5 is housed in a non-magnetic, anti-resonant metal outer shell, which is chrome plated and clear coated. The E-5 line includes US and Schuko wall plugs, as well as 15 amp and 20 amp IEC connectors. The US mains plug is rated at 125Vac 15A.
The overall plug length is 115mm, including cable entry grommet which can be removed. The maximum diameter is 40mm. It can receive cables up to 17.5mm in diameter. Each of the 3 conductor inserts within the plug can receive cables up to 6mm in diameter.
PRICE 1 off
£155.00+vat+p&p
Subscribe to Hifi Collective