Neotech NC-P303G, UP-OCC copper IEC plug, gold plated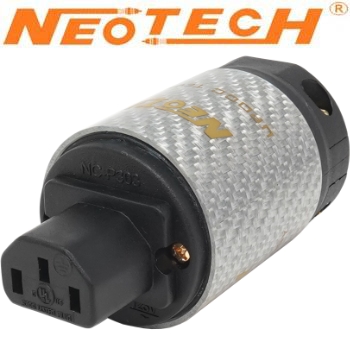 Pure UP-OCC copper contacts with 24-karat gold plating. These connectors feature a large opening for wide diameter AC cables and a screw-down style compression fitting for each of the 3 conductors.
See the image below of the built example cable using the Neotech NEP-3003 MKIII cable, NC-411G UK Plug and NC-P303 IEC Plug.
Specification:
Contacts Pure Copper Gold Plated 24K
Cryogenically treated
Compatible cables diameter between 12.8 to 16mm
Body Length: 84mm
Body diameter: 43mm
250V / 10A - 15A 125V
To achieve a high quality of plating and to reduce oxidation, Neotech applies a thin layer of nickel coating before the gold or silver plate. As a result, they are slightly magnetic.
Price (1 off)
£76.92 +vat +p&p
Subscribe to Hifi Collective