Duelund RCA Plug, Gold Plated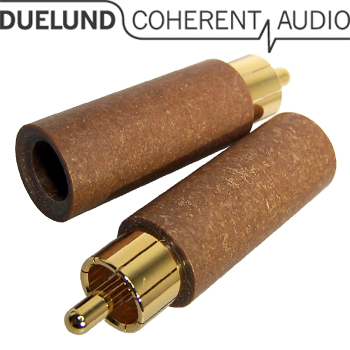 New from the Danish esoteric audio parts manufacturer is their wonderful RCA Phono Plugs, available in Direct Gold or Rhodium plate. To complement their incredibly popular range of wires the RCA plugs marry amazingly well.
They are constructed from UP-OCC copper, UP-OCC stands for Ultra-Pure, Ohno Continuous Casting so you really cannot buy a better purity material when it comes to copper. They then go through cryogenic and demagnetizing treatments. The outer shell comprises a natural fibre vacuum compressed paper similar to that used on their capacitors. 
These exquisite plugs can receive cables up to 7.9mm in diameter, their overall diameter is 13mm and their length is 46mm. The outer shell screws onto the main portion. Additionally, a grub screw contact provides superb physical contact onto the main cable.
Sold individually
PRICE 1off
£26.50+vat+p&p
Subscribe to Hifi Collective