Oyaide GBN Gold plated 4mm Banana Plug (set of 4)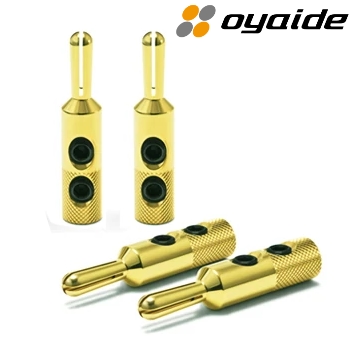 24K gold plating to produce a graceful sound.
A high rigid stainless steel screw with a diameter of 5mm was used for a cable penetration part with a diameter of 4mm. This eliminates the gap between the main body and the screw part and realizes secure contact and fixation with the cable and the body with the two screws.
Made in Japan by Oyaide
Specifications:
Material: Phosphor bronze
Plating: 24K gold plating
Wiring method: Dual screw clamp method
Outer diameter: 8.0mm
Applicable conductor diameter: ~ 4.0 mm (5.5 sq)
Packing number: 4 pieces
Others: L type hexagonal wrench included
PRICE (4 off)
£80.00 + vat + p&p
Subscribe to Hifi Collective