Audio Note Stepped Attenuator (Shunt, Stereo version) DISCOUNTED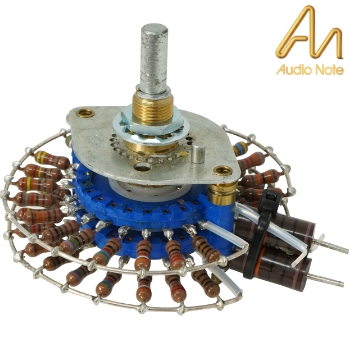 The Audio Note stereo stepped attenuator is now available in 50K and 100K. It features 23 steps with heavily silver-plated copper contacts, it is a shunt type with the main load / Series resistor being a 2W Audio Note Tantalum and the shunt resistors being 0.5W Audio Note tantalum.
These attenuators were used in the M9 Phono pre-amplifier and will be introduced in the M10 Line and ONGAKU. smallest body dia. 70mm, chassis hole size dia. 9.5mm, shaft dia. 6mm and 6.3mm (1/4 inch), shaft length 15mm, bush height 10mm.
Hi-Fi Collective have recently purchased all the remaining stock as this range has been replaced by their all-new stepped Shunt stepped attenuator. (Not yet available for resale).
PRICE (1 off) 50K and 100K
£253.00 +vat +p&p  - Discounted price £150.00 +vat +p&p
Subscribe to Hifi Collective