Belden 8402 internconnect cable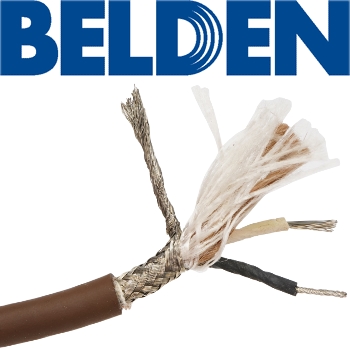 The Belden 8402 interconnect cable is increasingly popular for both Stereo Interconnect and Balanced XLR cables. A low-impedance cable with 20AWG tinned copper conductors, resulting in a clear signal, and the tinned copper braiding minimising interference.
20 AWG stranded (26×34) high-conductivity TC conductors, EPDM rubber insulation, rayon braid, TC braid shield (85% coverage), cotton wrap, CSPE – Chlorosulphonated Polyethylene jacket.
Technical Specifications
AWG (American Wire Guage): 20
Stranding: 26 × 34
Material: High Conductivity Tinned Copper
Nominal Diameter – 2.11mm
No. of Conductors: 2
Nominal Conductor DCR: 10.2 Ohm/1000ft
Nominal Conductor DCR Conductor Resistance: 10.2 Ohm/1000ft
Nominal Outer Shield DCR: 3 Ohm/1000ft
Nom. Capacitance Conductor to Conductor: 30 pF/ft
Nom. Capacitance Conductor to Shield: 55 pF/ft
Impedance: 52 Ohm
Nominal Characteristic Impedance Max. Current – 4 Amps per conductor @ 25°C
Insulation Specifications
Material – EPDM – Ethylene Propylene Diene Monomer Rubber
Inner Shield Material – Cotton Wrap
Outer Shield Material – TC – Tinned Copper. 85% coverage
Outer Jacket Material – CSPE – Chlorosulphonated Polyethylene
Nominal Diameter: 6.7mm
Nominal Wall Thickness: 0.9mm
PRICE (1 metre)
£11.00 + vat + p&p
Subscribe to Hifi Collective