Jupiter copper in cotton insulated wire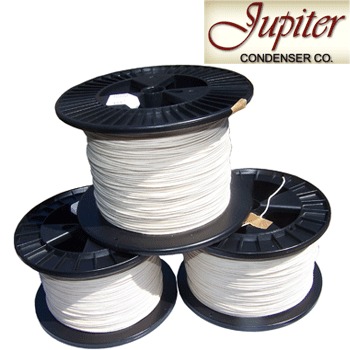 Jupiter offers a wide range of wires, including a 4N & 6N certified grade of oxygen-free copper, as well as, a cryogenically treated wire too. These Jupiter wires are all high purity metals with natural cotton insulation. Cotton insulation acts as a fibrous matrix for separating wires while maintaining a predominantly air dielectric, sonically very natural and open. So many of the modern innovations do not translate to better or more natural sound.
Certified OFHC Copper CDA 101. 99.99 Cu
Ideal for hook-up wire, interconnects and loudspeaker wire.
Sold in multiples of 1 metre and supplied in a continuous length.
Below are the types available with prices:
Jupiter AWG14: 1.63mm inner diameter, overall diameter 2.03mm, single 4N copper core, cotton insulated wire
£9.37 +vat +p&p
Jupiter AWG16: 1.3mm inner diameter, overall diameter 1.75mm, single 4N copper core, cotton insulated wire
£5.21 +vat +p&p
Jupiter AWG18: 1.11mm inner diameter, overall diameter 1.52mm, single 4N copper core, cotton insulated wire
£5.21 +vat +p&p
Jupiter AWG20: 0.812mm inner diameter, overall diameter 1.55mm, single 4N, copper core, cotton insulated wire
£4.50 +vat +p&p
Jupiter AWG23: 0.573mm inner diameter, overall diameter 0.9mm, single 4N copper core, cotton insulated wire
£4.10 +vat +p&p
Jupiter AWG26: 0.405mm inner diameter, overall diameter 0.8mm, single 6N copper core, cotton insulated wire
£2.68 +va t+p&p
Jupiter AWG26, CRYO Ultra-thin insulation: 0.405mm inner diameter, overall diameter 0.6mm, single 6N copper core, cryogenically treated, cotton-wrap insulated wire
£2.85 +vat +p&p
Jupiter AWG28: 0.321mm inner diameter, single 6N copper core, cotton insulated wire
£2.54 +vat +p&p
Jupiter AWG28, CRYO: 0.321mm inner diameter, single 6N copper core, cryogenically treated, cotton insulated wire
£2.50 +vat +p&p
Subscribe to Hifi Collective