M-Connect Terminal, TPCU870C Large Classic Copper post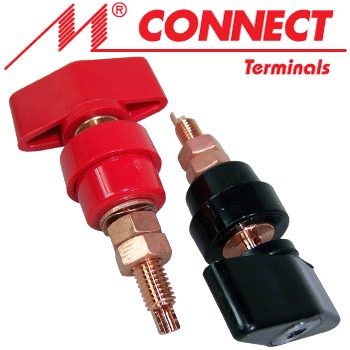 Mundorf, M-Connect TPCU870GC, pure copper, Classic version binding posts. The larger of the Classic series.

The TPCU Terminal Posts are made from OFC pure copper and are designed to meet the highest demands on mechanical precision, acoustical performance and aesthetics. 

Made in Germany the Mundorf TPCU series combines maximum conductor cross-section with lowest transfer resistances. Thus they united tonal clarity, beauty and stereo-phonic spaciousness with harmonious-warmth. They are very large and would suit the rear connection of a loudspeaker or suit a large power amp.
There are 2 types available - the Classic style and the EVO version. There are 3 different finishes, the standard untreated pure copper, the gold plated, as shown here, and the silver plated version.

Pure copper terminals should be cleaned periodically with copper-polish or a mixture of vinegar and water to prevent oxidation. Alternatively as mentioned we offer maintance-free versions plated with silver or gold. 

The TPCU870 terminal post will receive a banana plug through the top and a 4mm banana / 4mm diameter bare wire / 6mm opening spade from the side.
These posts are sold individually and are available in red and black. 
Price: £40.17 +vat +p&p
Subscribe to Hifi Collective