Audio Note Kaisei Electrolytic Capacitors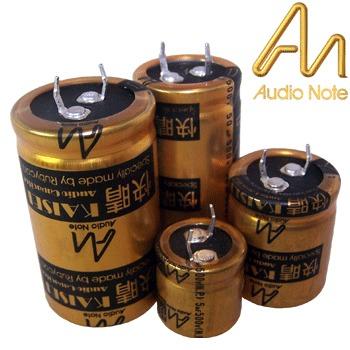 We are proud to be the first to stock the all new Audio Note Kaisei Electrolytic capacitor range specially suited for valve power supply use.
The Audio Note™ KAISEI range have been developed over the past 4 years with the engineering team at Rubycon (of Black Gate fame). They are based on the same materials with the only difference being the paper used is not impregnated with graphite particles. Otherwise the KAISEI capacitors use the same special electrolyte.
These Black Gate replacements are incredibly close in performance to the highly regarded WKz range. There aren`t any other capacitors that come close. Audio Note`s higher Level Three products, the Silver and Silver Signature models will have the KAISEI electrolytic capacitors in the power supply.
The same foil and paper and construction quality as will be found in the forthcoming Audio Note™ Black Gate replacements which should start coming through in the near future.
The Kaisei are availble in the standard POLAR format whereby you have a postive and a negative terminal and they must be fitted the correct way round. Alternatively the NON-POLAR (bi-polar) offer an improved sonic performance, they can be fitted either way round.
To see the full range please click BUY NOW below. All sizes etc are given in the shop listings.
Subscribe to Hifi Collective