Fostex FF225WK 200mm 8 Ohm Full Range driver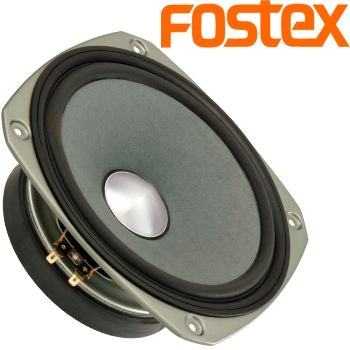 The largest driver in the FF-WK series. The 200mm FF225WK utilises a double layer paper cone, consisting of a wood pulp fibre base and a KENAF paper surface layer. This along with a dome-shaped aluminum centre cap and pocket neck damper, ensures a fast, realistic high-quality sound throughout the range.
Exclusively designed for use in bass reflex enclosures, the FF-WK series offers designers a chance to use a full range drive unit in a relatively small cabinet, without compromising on sound quality.
Double-layer cone / up-roll edge using a new material
A double-layer cone paper consists of two layers. One is a basic layer and the other is a surface layer. In the FF-WK series, a long-fibered (low freeness) wooden pulp is used for the basic layer, which has high rigidity realized by the large volume structure and appropriate internal loss. For the surface layer, the bincho charcoal powder is blended with a short-fibered (high freeness) kenaf, which allows to accelerate the propagation speed on the cone paper surface.
The up-roll edge shape realizes a long stroke. A polycarbonate series material which has opposite physicalities of high loss and high Young's modulus is specially blended with urethane foam.
The color tone of FF-WK series cone paper is created by the bincho charcoal and no dye is used. Due to this fact, there is a case that the color tone slightly differs from each other.
Ridge-dome shape aluminum alloy center cap / Mechanical 2-way construction
A ridge-dome shape center cap made of aluminum alloy is employed. Dispersing and deadening a resonance occurred at a specific frequency with this cap helps to ease an unnecessary sound coloration at high  requency range. Also direct coupling with the voice coil bobbin expands the high frequency response.
3-point gluing / Pocket neck damper
3-point gluing which glues the cone paper, damper and the voice coil at one point is employed on the FF-WK series. Increasing the strength of the cone neck section realizes an improved high frequency  response. Employing the pocket shape at the damper neck section has realized the 3-point gluing even with the usage of junction cable.
Faston 205 gold coating connection terminal
In order to minimize the sound variation, the Faston 205 gold coating connection terminal is employed as a speaker terminal.
Specifications:
Power Handling: 100 Watt
Impedance: 8 Ohm
Frequency from: 44Hz
Max. Frequency: 17kHz
Sound pressure: 93dB
Chassis-data
Overall dimensions: 208mm
Baffle cutout: 185mm
Depth (Total): 91.7mm
Frame Material: Steel plate
Membrane Type: Cone
Membrane Material: Kenaf Fibre
Voice coil Ø: 50mm
Magnet-weight: 1067g
Magnet-inductance: 8.488T
Thiele-Small-Parameter
Resonance fs: 44Hz
Mechanical Qms: 2.31
Electrical Qes: 0.409
Total Qts: 0.35
Equivalent Air-Volume Vas: 57.898 Liter
DC-Resistance Re: 6 Ohm
Coil Inductance Le: 0.068mH          
Mech. Compliance Cms: 0.826mm/N
Moving Mass     Mms: 18.4g
Max. Excursion +/- Xmax: 2.25mm
BL Product Bl: 8.488 N/A
Membrane Ø     Md: 168
Membrane Area Sd: 220cm²
Sound pressure dB: 93 SPL
Efficiency Nref: 0.995%
PRICE (1 off)
£157.83 +vat +p&p
Subscribe to Hifi Collective