NOS Audio Note 1 pole 23 way switch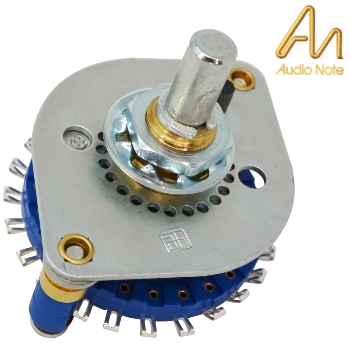 Audio Note has now moved onto a new style of stepped attenuators, soon to be stock by HFC so do look out for them. We took the opportunity to buy up the last remaining stocks of their old switches, hence why NOS - new old stock. Originally they were custom made switches from Blore-Edwards and featured Audio Note 0.5W Tantalum resistors and appeared heavily in their high-end finished products.
They are suitable for mono series and shunt type stepped attenuators and mono controlled TVCs.
They are the make before break type. The contacts are silver plated copper. 
Taking advantange of their low price we are launching a low cost Shunt Stepped Attenuator kit for under £30. So watch this space.

Dimensions:
shaft - 6mm diameter, 13mm length
bush - 9.5mm diameter, 10mm length
body - 48mm x 40mm x 22mm (height)
PRICE (1 off)
£27.50+vat+p&p
Subscribe to Hifi Collective