Neotech SOST solid core silver wires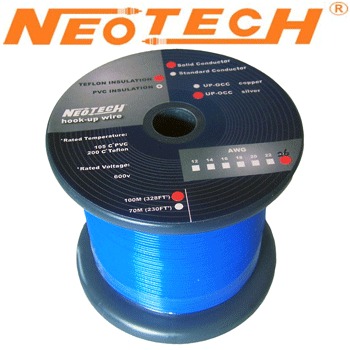 Neotech`s SOST type wire is 99.999% high purity UP-OCC silver solid core wire, sheathed in blue, heat resistant Teflon. Can be used for speaker wire, mains cable and general hook up wire, the best solid core silver wire currently available.
Sold by the metre, supplied in a continuous length.
We stock the following sizes;
SOST-30: AWG 30, 1 strand of 0.29mm wire, diameters, inner: 0.29mm, outer: 0.96mm,  300V, 1.9A rated.
PRICE (1 metre): £6.68 +vat +p&p
SOST-28: AWG 28, 1 strand of 0.34mm wire, diameters, inner: 0.34mm, outer: 1.45mm,  300V, 3A rated.
PRICE (1 metre): £9.11 +vat +p&p
SOST-26: AWG 26, 1 strand of 0.45mm wire, diameters, inner: 0.45mm, outer: 1.4mm,  300V, 3.9A rated.
PRICE (1 metre): £15.18 +vat +p&p
SOST-24: AWG 24, 1 strand of 0.52mm wire, diameters, inner: 0.52mm, outer: 1.7mm,  300V, 5.4A rated.
PRICE (1 metre): £24.29 +vat +p&p
SOST-22: AWG 22, 1 strand of 0.65mm wire, diameters, inner: 0.65mm, outer: 1.25mm,  300Vac, 6.3A rated.
PRICE (1 metre): £35.21 +vat +p&p
Subscribe to Hifi Collective