BRDCC Flat Braided LITZ Copper Wire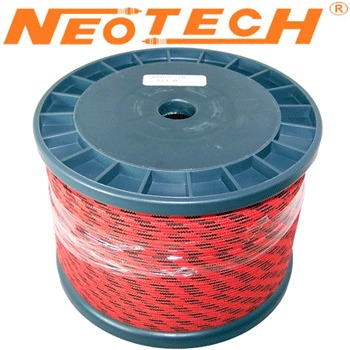 Neotech UP-OCC flat braid LITZ copper wire in 70% cotton / 30 % polyester cover. Rectangular in shape, it is built on a central polyester film on which the braid fits on. Each strand of the braid is 0.05mm in diameter. Then covered in the weaved insulation. Please note that each strand of wire is polyurethane coated so this needs to be removed before the wire starts conducting. You can remove the coating by using a solder bath or running the wire through a bubble of molten solder on the end of a soldering iron - repeatedly and quickly.
We stock the following 3 sizes:
Sold by the metre, supplied in continuous lengths.
BRDCC-20: AWG 20, internal size 0.27mm x 1.85mm, external size 1.5mm x 6.15mm, 300V, 8.4A rated, red
Price (1 metre): £9.11 +vat +p&p
BRDCC-22: AWG 22, internal size 0.27mm x 1.21mm, external size 1.4mm x 6mm, 300V, 6.7A rated, white
Price (1 metre): £6.68 +vat +p&p
BRDCC-24: AWG 24, internal size 0.27mm x 0.86mm, external size 1.7mm x 4.5mm, 300V, 5A rated, brown
Price (1 metre): £4.86 +vat +p&p
Subscribe to Hifi Collective