Glasshouse Speaker Cable Kit No.1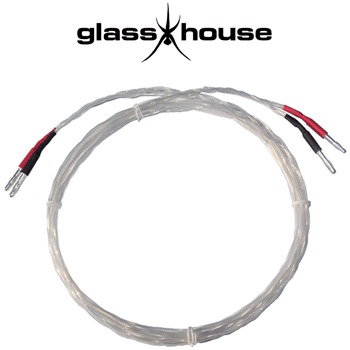 Following on from the Glasshouse interconnect cable No.1, we have come up with a purist speaker cable, the Glasshouse Speaker Cable No.1, featuring hificollective`s world-famous HGC 99.99% pure silver wire. Available in varying lengths and terminations.
It follows the plaited recipe, each speaker cable length is composed of six lengths of the HGC 0.5mm diameter solid core wire. Using 3 strands of the individually Teflon sheathed wire for the signal and 3 for the return. The 3 pairs of wire are plaited loosely, then one wire of each pair is used for the send and the remaining 3 are used for the return. Simple. No covering is required for the cable as the plaiting process keeps the wires together. For the termination, you can use the Audio Note silver-plated CON-060 4mm banana plugs as shown in the pictures. Alternatively, you can use the Audio Note silver plated spades, the CON-065b. The send and return wires are marked using red and black heat shrink. Or you could leave them bare.
Being a kit you, are saving money as you are only purchasing the composite components, the mark up of these is a fraction of the mark up of a manufactured cable, plus you have the enjoyment of making a relatively simple kit (1-2 hours work).
Listening Test:
The cable needs about 100 hours to run in, or if you have access to a toasting device all the better. After burn in the cable carries the delicious detail that you would expect from pure silver cables. Trebles are silky smooth with amazing clarity, mids are well defined and clean and the bass is controlled, deep and full. Overall the Glasshouse Speaker Cable No.1 is a real stunner and you won`t look back.
Price From:
£218.90+vat+p&p
Parts supplied for a pair of speaker cables. If you order 2 metres you will be supplied enough wire for 2 x 2m speaker cables (for a speakers pair).
12 x 1m length of cable required - HGC 0.5mm dia. wire in Teflon sleeving. (If you order 2m x kit, you will receive 12 x 2m length of Teflon sleeved 0.5mm HGC silver wire)
8 x Audio Note banana plugs / Audio Note spades / no terminals - your choice
20cm x Red heat shrink 4.8mm
20cm x Black heat shrink 4.8mm
1m x 3.8% Mundorf Silver Solder
4m x 10mm Expandable Sleeving + 12.7mm blue heat shrink x 50cm, if selected.
Subscribe to Hifi Collective