ETI Research Nexus RCA Plug, Silver Plated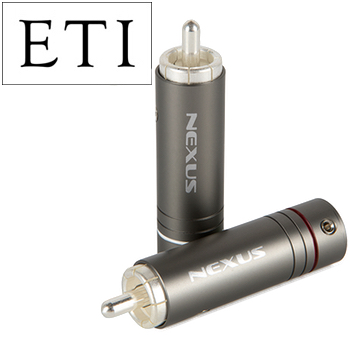 The ETI-Research Nexus RCA Connector is a new direction for ETI. While they are the originators of the minimum mass star grounding philosophy, they believe that they can make more conventional RCA Connectors that can offer many of the same attributes as the Bullet Plug.
In theory, an RCA Connector should allow the signal to transmit with little interference or effect. However, so many RCA Connectors are made from poor conductive metals such as brass which can alter the signal giving a brittle and harsh sound. The Nexus RCA Connector changes that with the use of 1100 series Copper for the Signal Pin Copper which has an IAC Rating of 102%. To ensure the durability needed for plugging in and out, the body is made from Tellurium Copper. This makes sure that the integrity of the plug is maintained for many years. The Nexus RCA has been changed to allow the signal wire and the return wires to be screwed in, so soldering is not required. However, if that is the preferred method you can still solder your interconnects cables.
Specification:
Signal Pin - Pure 1100 series Copper
Earth return - Tellurium Copper Body
All connections are silver plated
All connections are screw fit (soldering not required). Can receive wire up to 1.75mm in diameter.
Aluminum Housing for EMI/RF rejection
Cable held in place with twin grub screws near the cable entry
Dimensions
Overall body length 42mm x diameter (widest part) 8mm
Cable entry diameter 8mm, interconnect cable held in place by 2 grub screws located at the top of the headshell near the cable entry.
Price (pack of 4)
£120.08 +vat+p&p
2 marked with a red ring, 2 with a white ring
Subscribe to Hifi Collective