MS HD Power MS9315Rh IEC Plug, Rodium plated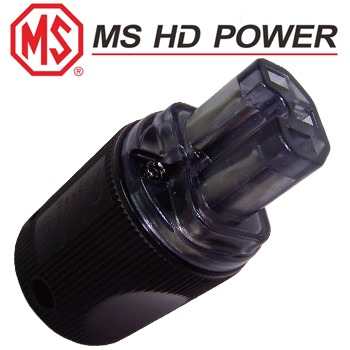 Audiophile IEC connector, Rhodium-plated
This high-quality IEC mains connector by MS HD Power is designed for use with audio equipment and will accept large size power cables, up to 16mm diameter - and accepting up to 4mm dia. wires internally, held in heavy-duty clamps to ensure a perfectly airtight joint (and not held with a grub screw, as in many 'inferior' product plugs, as the cable can 'creep' in these types of connections). It is very easy to wire up and there are instructions included with the plug, which comes in a display case package.
All the electrical parts are Rhodium plated (1.0µm) over silver as are the all-important phosphor bronze extra-strong spring clips, for a perfect airtight mating with the IEC socket in your audio equipment.
The casing is manufactured from nylon material, it is very durable, highly insulating, self-damping and light in weight. It has a ribbed surface with two recesses to enable easy fitting and removal from the socket.
PRICE 1 off
£50.00 +vat+p&p
Specifications
Fully complies with BS-EN-60320 and patent pending.
Size: total length, 75mm x 38mm diameter.
Fitting instructions provided.
Subscribe to Hifi Collective