Oyaide P-029e Brass Schuko plug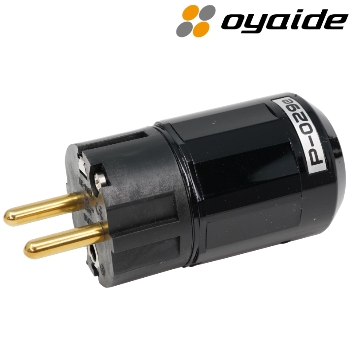 Every one of Oyaide products is totally "made in Japan" even down to every minute component, all because for Oyaide to maintain a high standard of quality and reliability, it is essential to have every production system under Oyaide direct and strict control. Oyaide products are for a special market where minute vibration from loose connection or due to imperfect choice of material could become a vital failure.

Oyaide carefully designs each and every component for easiness in assembling, simplicity and requirement, cost factor is secondary. Instead, Oyaide ignores excess decoration and unnecessary complexity. Oyaide is proud to present pure value for your enjoyment.

These plugs and connectors are not merely high grade; every step is taken to realize the `State of Art` for audio application.
Specification:
Blade: Brass
Install cable O.D.: min 6.5mm - max 17.0mm
Maximam wire gauge: AWG10(5.5sq)
Rated V/A: P-029e : 250V / 16A CE
PRICE (1 off)
£95.83 + vat + p&p
Subscribe to Hifi Collective