Oyaide P-037e Rhodium/Silver plated Schuko plug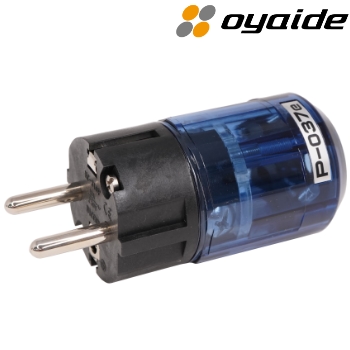 The P-037 uses thick (1.5micron) silver-plating directly applied on the polished surface of the receptacle and blade. The polishing process is then again (twice) carried out on the silver-plated surface and then finally the rhodium-plating (0.3micron) is applied. The combination and thicknesses of plating, and the quality of the polishing, are carefully controlled to maximise sound quality.
The basic material being deoxidized phosphor bronze (1.4mm thick) for strength and secure contact. When connected, they can take over 7kg load. Surface is thoroughly polished twice.
The body and outer casing is high-density PBT with 30% glass-filler mixed in for rigidity, stability against heat, and high resonance absorption factor, with a polycarbonate shell.
Made in Japan by Oyaide.
Specifications:
Conductor Model – Rhodium-plated Pure Copper P-037E EUR plug
Material – 99.999 OFC-Copper Poles with Rhodium-plated Nylon/fiberglass front body
 Polycarbonate shell
IEC: 10A 250V / 15A 125V
SCHUKO: 16A 250V
Accommodates cable 10mm – 21mm
Maximum wire gauge: AWG10
PRICE (1 off)
£125.00 + vat + p&p
Subscribe to Hifi Collective