Viablue T6S RCA Plug, Screw fit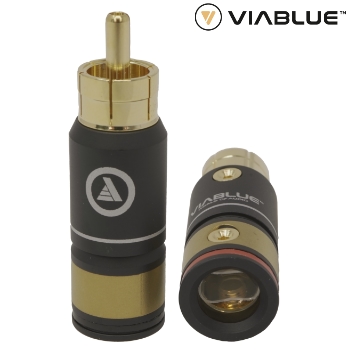 Viablue T6S RCA Plug, Screw fit version, fitting cables Ø 6 – 8 mm. Completely closed tubular ground contact for complete insulation and shielding. Two strain relief screws provide a strong hold of the cable.
Cables are stripped off their insulation and inserted into the inner pin of the RCA plug. The screening (braided or not braided ground strands) is then twisted and wrapped around the cable next to the black insulation. Please only wrap it around once and cut off any remains. Once in the pin cylinder, the pin screw and inner strain relief screw are tightened. To conclude the assembly, the outer shell is put in place and the outer screws are tightened.
Uniquely shaped contact crown to optimize contact pressure and provide a tight connection
24 carat real gold-plated
Outer shell made of black, satin-matt aluminum
Strain relief provided by one M4-hexagon socket screw 1.5 mm
Dimensions:
Ø 13.5 mm
Shell length 30.5 mm
Solder version: For cable Ø 4 – 9.5 mm, inner Ø soldering tub 3 mm
Screw version: For cable Ø 6 – 8 mm, inner Ø pin 2.8 mm
PRICE (2 pairs)
£35.80 + vat + p&p
Subscribe to Hifi Collective