WBT-0532 Aluminium anodised mounting plate, 127mm x 178mm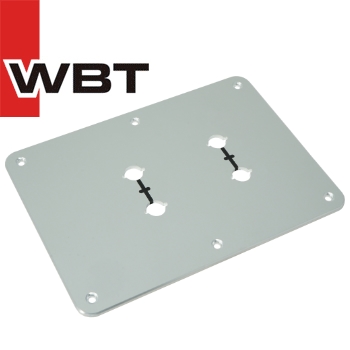 Anodised mounting plate punched for 4 binding posts and available in either silver or black finish, with a dimension of 127mm x 178mm.
Suitable for all WBT pole terminals and can be used with the WBT-0725 Signature Power Bridge / Topline Power Bridge.
The plate includes mounting accessories: a closed-cell foam rubber gasket, and six wood screws for use with the six mounting holes.
The plate is 3mm thick and made from aluminum and can be mounted directly onto the housing or countersunk.
WBT-0532.05: Aluminium anodised (1 off)
£71.09 +vat +p&p
WBT-0532.06: Black anodised (1 off)
£71.09 +vat +p&p
Subscribe to Hifi Collective