WBT-0725 Signature Power Bridge / Topline Power Bridge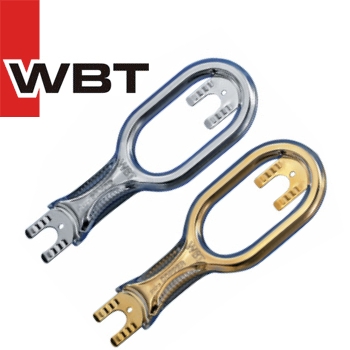 The power bridges have been designed for bi-wiring in line with our nextgen™ technology. The conductor material consists of pure copper (Cu) or fine silver (Ag) which gives the bridges excellent conductivity. Oxidation of the surface is prevented by the gold plating of the copper version and platinum plating of the silver version. Transparent Makrolon insulation provides 100 % contact protection and CE- and IEC conformity. The WBT-0725 is additionally equipped with an inlaid Elastomer for vibration damping.
These power bridges can be used with all WBT pole terminals (except the WBT-0702 versions). It is of the utmost importance to respect the vertical distance between the pole terminals to be connected, please refer to the datasheet below.
Available in a Pure Copper version and Silver version.
Terminal spacing:    
Of the terminals to be connected (height): exactly 60mm
Between the poles: minimum 30 mm
WBT-0725 Cu (1 off)
£15.42 +vat +p&p
WBT-0725 Ag (1 off)
£40.83 +vat +p&p
Subscribe to Hifi Collective