ELMA 4 pole 6 way switch, 01-2263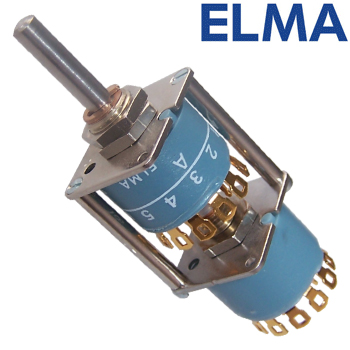 New to HFC is the Elma 01 Series 4 pole 6-way selector switch, lower in cost than the popular 04-2264.
Ideal for signal selection in pre-amplifiers or integrated amps. Shorting, make before break type with gold plated contacts. Solder eyelets for easy solderability. Rated at 2A 42Vdc. 8mm diameter chassis cutout required. The shaft is 4mm in diameter though we include a shaft adapter with each switch that increases the diameter to 6mm. Shaft adapter fits over shaft, position grub screw of the knob over the adapter and tighten - works a treat. This switch has a low torc, 1.5Ncm, giving it a smooth, easy turning action (1.5Ncm). The body of the switch is labelled so the pins are easily identified for soldering up to your signal inputs and outputs. This switch cannot be adjusted to make a 4 pole, 2,3,4 or 5 pole switch.
Shaft length is 15mm, 8mm diameter cutout, bush length 6mm. body dimensions (internal part) 20mm x 18mm x 42mm
PRICE (1 off)
£58.06 +vat+p&p
Subscribe to Hifi Collective