SGW605: Mundorf Silver/Gold Interconnect Wire, 6 x 0.5mm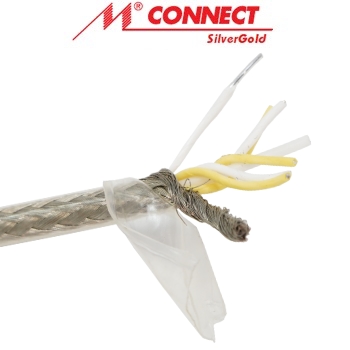 The mixture of silver plus 1% gold has proven itself excellently as capacitor film for the Mcap SUP.
The resulting sound is so impressive that it was only natural to think of using this alloy for the internal wiring of electronic devices. Listening tests with individually isolated conductors quickly proved that SilverGold shows its superior strengths every bit as convincingly in this application as well. Purity and elegance are terms that automatically lend themselves to this exquisite material.
The SGW605 consists of 6 twisted wires, 3 yellow and 3 white. The SWG605SHLD is shielded with aluminium and coated with a PVC jacket, shown to the right.
See an image of the SGWWH/YE below.
Excellent for both interconnect and as hook-up wire.
SGW605WE/YE (WHITE/YELLOW PTFE SHEATHING) SPECIFICATIONS:
6 wires x 0.2mm2 (0.2mm2 / 0.5mm / 24AWG)
3 x yellow + 3 x white wires
Cable construction: 6 twisted conductors + blank in the centre
Silver: min. 99.97% typ. 99.99%
Gold: min. 99.97% typ. 99.99%
PRICE (0.5m)
£71.81 + vat + p&p
SGW605SHLD (SHIELDED) SPECIFICATIONS:
6 wires x 0.2mm2 shielded (0.2mm2 / 0.5mm / 24AWG)
3 x yellow + 3 x white wires
Cable construction: 6 twisted conductors + blank in the centre
Shield: Aluminium
Outer jack: transparent PVC heat shrink
Silver: min. 99.97% typ. 99.99%
Gold: min. 99.97% typ. 99.99%
PRICE (0.5m)
£87.50 + vat + p&p
Subscribe to Hifi Collective