Mixflex Polypropylene Capacitors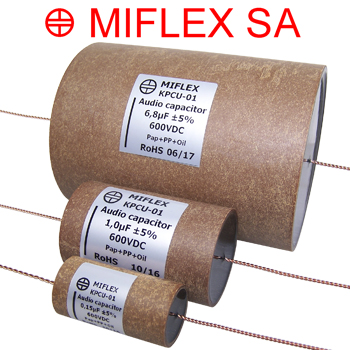 We have restocked all 4 Miflex capacitor ranges with a large number of values and voltages to choose from.
The Copper Foil in Paper / Polypropylene in oil was originally introduced in July 2017 and ever since have been incredibly popular with our customers, offering this often expensive format of a capacitor at a reasonable price.
The initial offering has expanded and we now stock the KPAL range with their 600V rating. As well as, the KPCU range in 250V and 630V versions, made of high purity copper foil and the coils are oil-impregnated utilising a vacuum-based technology.
Finally, the KFPM range is specifically designed to minimise parasitic impedance components such as inductance and resistance thus improving sound quality.
Use the links above to read more about each range and click HERE to buy.
Subscribe to Hifi Collective