Amtrans AMCY Golden Black Capacitor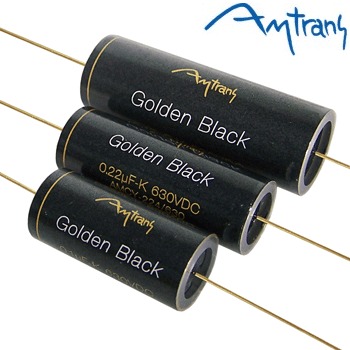 Here we have the all new Amtrans AMCY Aluminium foil paper in oil capacitors. The outer shell in enclosed in insulating plastic over a brass tube. The Capacitor is held solidly inside the tube with a Special Epoxy Resin, black in color, to reduce the external vibration effecting the sound. The leadouts are 0.8mm diameter gold plated OFC copper.
They have received rave reviews in the far east and leaped to the top of the Aluminium foil, paper in oil charts.
The outer foil is clearly marked and should be connected to the lowest impedance path to ground. For example this end should be furthest away from the anode of a valve.
They are currently available in 4 values, 0.047uF, 0.1uF, 0.22uF and 0.47uF.
Specifications
Category temperature range -40 to +85°C
Rated voltage 630V DC
Rated capacitance range  0.01uF - 0.47uF
Rated capacitance tolerance +/- 10%
Heavy duty body for Natural & Firm sound
Gold-plated OFC lead wire (without any nickel)
Made in Japan
Subscribe to Hifi Collective