Kemet T-Power 4 Pole Electrolytic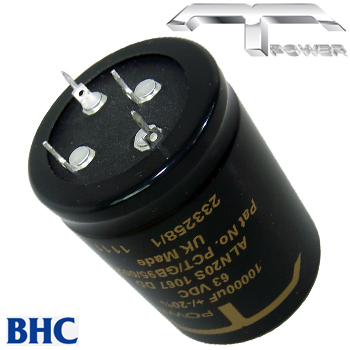 This T-Network capacitor uses a combination of T-Network and Slit Foil technology to produce the ultimate audio capacitor. It is a typically ultra-reliable Kemet electrolytic with performance exceeding even the most expensive specialist electrolytics.
The T-Network capacitor is a unique capacitor designed specifically for audio applications. Its main advantage lies in its ability to reduce the effect of unwanted resistance and inductance on the amplifier. The T-Network capacitor outperforms even the most expensive capacitors from the Far East at a fraction of their price.
In essence, a capacitor is two large plates of conductive material, separated by an insulator. As the charge in one plate rises, it transfers across to the other plate. Please read the datasheet for a more technical explanation.
Specification:
Capacitance: 10000uF
Tolerance: +/- 20%
Rated voltage: 50Vdc to 100Vdc
Temperature range: -40 Degrees to +85 Degrees
Features Slit Foil and T-Network Technologies
We have 2 values available at the present time:
10000uF 63V, 40mm (diameter) x 55mm (height), part number ALN20S1108DF
10000uF 100V, 40mm (diameter) x 106mm (height),  part number ALN20S1067DD
Please note BHC are now owned by KEMET and the new range we have in is labelled KEMET. Rest assured these are the same design of 4 Pole Electrolytic as the original BHCs.
Subscribe to Hifi Collective