Mundorf M-Resist Ultra MREU30 30W Film Resistor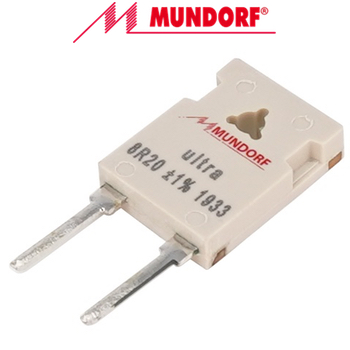 To celebrate Mundorf's 35 years of research, development, and service in the audio component industry they have created their all-new top of the range foil resistor, the MREU30. Housed in the TO218/220/247/248 format, this resistor is rated at 3W in free air but when fitted to their special version red aluminium heatsink it is rated at 30W. Offering 1% tolerance and constructed from non-magnetic tinned copper connectors and assembled onto a copper substrate the MREU30 has a performance second to none. It is ideally suited to loudspeaker passive crossover use.
The development of Mundorf's M-Resist Ultra Resistor is based upon the well-known transparent tonal properties of copper-manganin foil. Compared to all wound-wire resistors, this film provides a huge reduction in inductance. Copper is significantly softer than the metal-oxide used for metal oxide, MOX resistors. The natural resonances of the copper-manganin foil are therefore significantly less pronounced, which means that distortions caused by crystallurgy and electroacoustics are significantly reduced. That is why the MREU30 has secured a top position in Mundorf's range and among other makes of audio components. They lack much of the distortions inherent in other resistor designs.
Mundorf has worked closely with a company specialized in high-quality laboratory resistors. They have greatly reduced the micro-mechanical distortions generated by the feedback of electro-mechanical vibrations and microphony. To achieve this the mechanical structure of the resistor was damped by using heavier copper instead of using aluminium as the carrier plate. A whole range of adhesives and insulation materials have been tested from a micro-acoustic point of view and optimized in their interaction so that the total micro-electroacoustic distortion of the MResist Ultra is significantly lower than other resistors available on the market. As a result, very little musical detail is lost in the electro-mechanical vibrations of the electrical signal. Instruments and vocals are incredibly lifelike with a beautiful sound stage and a clean sound. Breath-taking!
SPECIFICATION:
Resistance range: 0.01 to 47 Ohm
Power rating: 3 watts in free air, 30 watts fitted to the heatsink
Tolerance: 1%
Thermal Resistance: 2/5K/W
TCR: +/- 50ppm/K
Voltage rating: 500Vdc, 300Vac
Operating Temperature Range: -40 to 130 Degree C
Resistor Material: CuNiMn-Foil
Substrate: Copper
Dimensions of resistor including lead-outs: 15.5mm x 4.6mm x 31.6mm
Dimensions of resistor lead-outs: 0.8mm x 1.4mm x 14.5mm, pitch 10.16mm
Dimensions of the heatsink (see datasheet for drawing): 44mm x 31mm x 42.7mm (including gold plated fixing pins)
PRICE 1 off (each)
0.01R to 47R - £14.54 +vat+p&p
Heatsink + Pad + M3 screw & nut - £5.62 +vat+p&p - see datasheet below for dimensions
Subscribe to Hifi Collective