Vifa BC14SG49 8 ohm Woofer - DISCONTINUED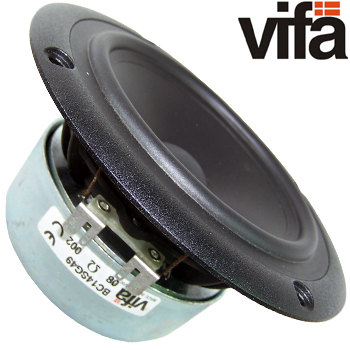 Replacement for Madisound Swifty and Meadowlark Swift Woofer.
The BC/OC product line is known for its quality tweeters and midwoofers. Designed in Denmark by Vifa's experienced team of audio engineers, this range of products can meet the most demanding needs for both volume and audio excellence. The driver has ferrofluid in the magnet gap for improved cooling.
Specification:
ower handling (continuous/programme) = 110 W
resonance frequency fs = 63 Hz
impedance R = 8 Ohm
sound pressure level SPL = 87 dB (2,83V; 1m)
DC resistance Re = 5,6 Ohm
force factor BL = 4,9 N/A
voice coil inductance L = 0,63 mH
effective piston radiating area Sd = 80 cm2
effective mechanical mass incl. air load mms = 6 g
equivalent volume of compliance Vas = 9,6 l
total Q factor Qts = 0,46 (Qms=2,97, Qes=0,55)
voice coil diameter = 25 mm
mounting diameter d = 115 mm
overall diameter d = 149 mm
mounting depth (not countersunk) t = 71,6 mm
Price: (1off)
£70.00 +vat +p&p
Subscribe to Hifi Collective