Vifa MG18WK09 8 ohm Woofer - DISCONTINUED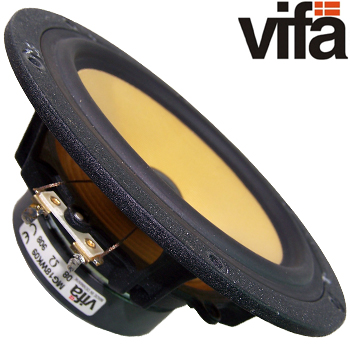 Driver Features: 6½" midwoofer, glass fibre cone, magnesium chassis.
The Classic line consists of all the highly regarded transducers that have been appraised and loved by so many customers over the years. The goal has been to assemble all the diamonds, developed over the years, speakers that fully live up to the heritage of the brand. 
Specification:
Resonance Frequency fs 34 Hz
Mechanical Q factor Qms 1.96
Electrical Q factor Qes 0.41
Total Q factor Qts 0.34
Force factor Bl 6.2 Tm 
Moving mass Mms 13 g 
Effective piston area Sd 138 cm2
Equivalent volume
Vas 45 ltrs
Sensitivity (2.83V/1m) 86.5 dB 
Electrical Data: 
Nominal impedance Zn 8 ohm 
DC resistance Re 5.85 ohm 
Voice coil inductance Le 0.88 mH 
Voice Coil and Magnet Parameters:
Voice coil diameter 25 mm
Voice coil height 14.3 mm
Height of the gap 5 mm 
Subscribe to Hifi Collective