Glasshouse Passive Pre-amplifier No.1 kit (Chassis Only)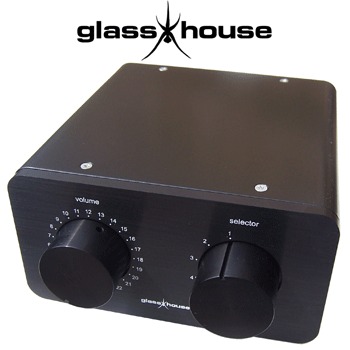 Glasshouse Passive Pre-amplifier Chassis. 

The chassis design keeps all signal wire lengths as short as possible, passives are not good at driving long runs of interconnect so the distance from the inputs - selector - volume control device - output socket is vital. Dimensions (with feet and knobs fitted)- 85mm(h) x 185mm(d) x 150mm(w) 

The Glasshouse chassis is made of 2mm thick aluminium, black powder-coated, with a black anodised front panel and knobs. The front panel is a 6mm thick aluminium plate, with clear screenprint markings. The chassis is non-ferrous with shielding properties so limited interaction with nearby separates. The finished product weighs in at 1kg so will stand firm during switching. 

Our passive has 6 pairs of RCA inputs, 1 pair of RCA record outputs and 2 pairs of output RCA sockets. Plenty of inputs for multi-source systems and you can feed a subwoofer and satellite systems with the extra output.

The chassis kit includes the chassis base and lid, front panel, 2 knobs, feet, and fixings.
This kit is suitable for those who want to build up their own Pre-Amplifier using a Stepped Attenuator.
Price: £120.00 +vat +p&p
Subscribe to Hifi Collective