Morel's unique vented double magnet system features prominently in their range of woofers. Below you will find the units we have available.
A 4" woofer, with a 2.1" voice coil. It features a single vented Neodymium magnet motor and steel chassis. 4.00mm linear high excursion.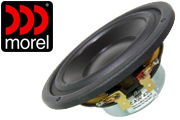 Morel 6" Damped polymer composite cone, with double magnets, Hexatech voice coil and a rubber surround.