Oyaide C-046 Palladium/Gold plated IEC plug, C15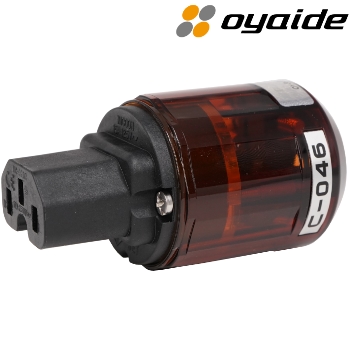 The C-046 features gold/palladium plated contacts and offers a reference-grade connection. This mains connector features strong, dark red see-through easy-grip handles and premium gold/palladium plating over phosphor bronze contacts.

The plating of the C-046 is a combination of 24k gold and palladium which were selected as a result of repeated listening tests. The inner gold layer is 1.5 microns thick and the outer palladium layer is 0.3 microns thick.
Offering a reference-grade connector superior to that of 029 (brass) or 037 (silver/rhodium) connectors and offer a premium upgrade over any equivalent type connectors.
Specifications:
Body and Outer Casing: High-density PBT is mixed with 30% glass filler for rigidity, thermal stability, and high resonance absorption
The basic material is deoxidized phosphor bronze (1.4mm thick) for strength and secure contact

When connected, they can take over 7kg load
The surface is thoroughly polished twice

The screws of P/C series are all made of highly rigid stainless so its screw head doesn't collapse even if you give them too much strength

Because it is a non-magnetic material, it helps to achieve hign S/N ratio without being magnetized at its connection part

The outer cover of P/C series is made of PC(PolyCarbonate) for its rigidity and hardness

to attenuate tiny vibrations in quick response and reduce distortions by its superior mechanical strength
PRICE (1 off)
£90.00 + vat + p&p
Subscribe to Hifi Collective