Oyaide C-079 Gold plated IEC plug, C15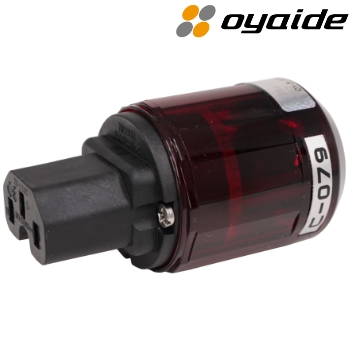 The C-079 is a true reference-grade connector employing super thick (0.2micron) 24k gold-plating directly applied on the polished surface of receptacle and blade. The polishing process is then again (twice) carried out on the phosphor bronze surfaces.
The combination and thicknesses of plating, and the quality of the polishing, are carefully controlled to maximise sound quality. Where rhodium sounds pure and strong, gold sounds warm and luxurious: truly a wonderful-sounding connector.
Specifications:
 Plug Type: EU standard
Wire Diameter: 6.5mm – 17mm
Wire Gauge: Max AWG10 (5.5sq)
Surface Treatment: 24K Gold Plated
Withstand Voltage: 10A/250V – 16A/250V
Material: Anaerobic phosphor bronze (surface polishing)
PRICE (1 off)
£85.00 + vat + p&p
Subscribe to Hifi Collective