Catch up with what's new at Hi-Fi Collective, August 2020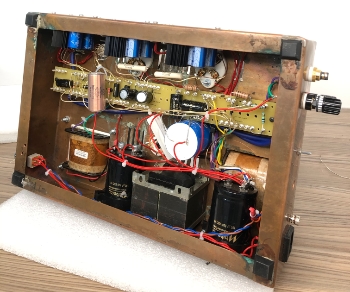 Hi Guys,
I would like to pass on our best wishes to you all and thank you for your continued support during these difficult times.
It would appear that you guys have been incredibly busy upgrading, doing scratch builds, and renovating your old equipment during the lockdown period.
I feel the DIY industry is very buoyant at the moment. Our partners have been able to send out deliveries to us, a few delays here and there but nothing to concern us. We do keep good stocks and are able to replenish them.
In the later part of last year, I bought a 2nd hand a pair of WAD, World Audio Design, 300B Parallel Single-ended Monoblocs. Their chassis had been fabricated from 2mm thick hand-worked copper with a rugged feel about them. Although they worked they needed a rebuild/upgrade. Elliot and I got to work on them over the last few months. So why not watch our Youtube videos and see how we tackled the whole project. A bit of history for me personally as I was involved in their development when I worked for Hi-Fi World magazine / WAD, they were one of my favourite kits, so reliable and they carried a wonderful dynamic and hi-end sound.
I would like to take this opportunity to introduce our newest member of the team, Sarah. Here she is trying out her new cushioned tray which we bought for after we realised she was hunching over her lunch while we social distance. Sarah has been with us for a few months and is a valuable member of our 7 member team, working meticulously in the warehouse. She does seem to be less interested in learning how to use our Francino coffee machine! We will all be taking part in a barista course soon so that will hopefully put an end to that.
After 100+ years of trading, A/S Tobias Jensen Production have closed their doors. Sad news indeed, however, we have bought in large stocks and have recently managed to acquire yet more stock so you will be able to get hold of this popular line of capacitor for a little while longer. We wish the Jensen crew luck for their future endeavours.
Jensen worked very closely with Duelund Coherent Audio over the years and the silver lining of the Jensen shut down is that Duelund acquired some of the winding and vacuum impregnation machinery. In recognition of this, Duelund have launched a new range of capacitors, JDM, or 'Jensen Domestic Market'. So the Jensen name lives on in the title. We were lucky enough to receive the first batch of JDM silver capacitors, these are the improved version of the Precision capacitors that proved very popular as bypass capacitors. We received 0.01uF, 0.022uF, and 0.047uF and the price is incredibly good considering these are silver foil. We sold out of the 100 x 0.01uF with a week. We have 400 more on their way but we do have other values and types which can also be used for bypassing, including the JDM tinned copper foil 0.01uF capacitor.
Over the next few weeks, we will be adding to the Duelund range of capacitors with more values of the JDM tinned copper foil, introducing the new JDM copper foil and JDM aluminium foil. Duelund will still be making the CAST and VSF version but sadly the remaining ranges are no more. These include the Alexander, JAM, Precision, RS and RS Mylar. We do have some stocks of the old lines left but they are going fast.
Fostex has updated their Full Frequency Drive units with the all-new NV range. Five sizes are available, FE83NV, FE103NV, FE126NV, FE166NV, and FE206NV. With the creation of these new drivers, they have ceased production of the EN range. We do have some in stock still if you need them. Fostex freely publishes recommended cabinet designs for these drivers so worth a look if you are thinking of tackling a big project.
Ideal for the home constructor and for those working on a prototype is the beautifully crafted PCBs from JA DIY. Two versions are available, for Octal and B9A valve bases. The 58mm square PCB sits on stand-offs, the valve base is soldered directly to the PCB allow you to work on the valve circuitry without having to turn the board over as each valve pin is connected to 2 solder tabs easily accessible from the top of the PCB. They feature copper earth plates on both sides of the PCB, solder resist and put through holes.
Mundorf has expanded on its range of copper foil inductors. They have launched a range called the VLCU coils various widths of copper foil and resin soak paper. Using ultra-soft Abacá Esparto special paper as a dielectric medium dip-impregnated with viscoplastic insulation resin providing high mechanical damping of coil-vibrations. Almost free of microphonic effect, even without a housing. Extremely calm acoustic pattern and the finest micro-dynamics.
The Fostex T500A MKIII has been reborn as the highest grade horn super tweeter, by adopting a newly developed ring-shaped pure magnesium diaphragm, precision-cut solid brass horn and equalizer and a low distortion design Alnico internal magnetic circuit. Adding the T500A MKIII, extending the super-high frequency over 20kHz, your speaker system will improve the sound quality and play music with improved expressiveness from high to low-frequency ranges. Limited supply available.
New to the already expansive line of audio grade resistors are the Niobium non-magnetic resistors. Material new to resistor manufacture and sonically a finer, more even sound to their normal choice of Tantalum for their resistive layer material. We have the full listing for the 2 watts with the 1 watt and 0.5 watts soon to follow. These are priced lower than the Tantalum non-magnetic range. They are definitely worth a listen!
While writing this update we have 2 pallets of kits on a boat from Japan. We decided to invest heavily in stock of Elekits amazing products and get them shipped sea freight to keep the costs down. The downside is a 3-week wait with the boat docking at Felixstowe on 9th August. The inventory is 15 x TU-8600SVK (without the Llundahl transformers, these are coming from Llundahl), 5 x TU-8600S, and 15 x TU-8200Rs. The popular TU-8600R has been improved upon with the S version. If you are interested in being contacted when they are available to buy why not send an e-mail to info@hificollective.co.uk and we will contact you on their arrival.
Following a tip from one of our regular Russian customers, we bought in a healthy range of the Toshin Jovial electrolytic capacitors. Japanese made, they rival the likes of Elna Cerafine and Silmics. It is always good to mix up the parts you use in an upgrade and these are reasonably priced too.
Miflex in Poland has been offering affordable copper foil, paper/polypropylene in oil capacitors for some time. The 630Vdc range is now the mainstay for constructors looking for this type of capacitor on a budget. They are however very large and if your circuit doesn't require 630Vdc rating then look no further. The KPCU-03 is 250Vdc and as such, are smaller than the 630V range and a touch cheaper. This makes them more accessible for crossover use.
We now have the full set! First, we had the 2W, then the 0.5W, and now the 1W Audio Note Silver Tantalum Non-magnetic resistors. Beautifully crafted as you would expect from Audio Note, with pure silver end caps and lead-outs. Starting at 10R, HiFi Collective have the full range of values
To join the new RCA sockets, KLE Innovations have also launched their low mass binding posts. 2 versions are available - the Naked Harmony (unplated high purity copper contacts) and the Classic Harmony (silver plated high purity copper contacts). Brilliantly engineered and thought out.
To wrap up our news update, we thought a little snapshot of our evening out was required. A fabulous night out at the Milton Keynes BrewDog pub, From Left to right we have, Jonny, Elliot, Matt, Nick (myself) and Mark. Absent from the group was Sarah and Malcolm, but they are coming out next time. 
Thanks for reading our update and don't forget if you need any help please get in contact and we love to hear about your projects do please do send us details in an email with pictures.
Happy DIYing
The Hi-Fi Collective team
Subscribe to Hifi Collective