Elna Silmic RFS Electrolytics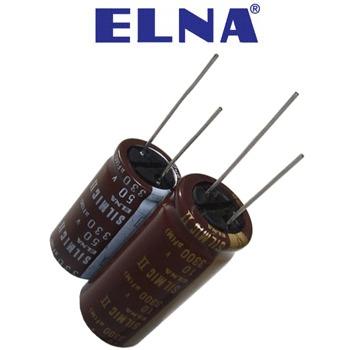 Elna Silmic (ROS Series) & Silmic II (RFS Series) Electrolytic Capacitors

High-grade Silk fiber capacitors for Audio.
The SILMIC series are Elna's highest grade audio capacitors that exhibit superior acoustic characteristics. An entirely new type of electrolytic separating paper is used, containing silk fibers. The extreme softness of silk can mitigate vibrational energy (generated by the electrodes, by external vibrations and by electromagnetic fields). Due to it's new electrolytic and foil design the signal propagation speed has increased (the ESR is reduced) and a more powerful, yet-mellow, sound is possible than before. When these capacitors were subjected to aural evaluations, the high range peak and midrange roughness were reduced substantially. Also, the low range richness and power were increased in the obtained high-quality sound.
Capacitance Values: 0.47uF - 6800uF
Voltage Values: 6.3Vdc - 100Vdc

Technical specifications:
Temperature range: -40 to +85 degrees C
Tolerance at 20 degree C, 120Hz: 20%
Endurance at 85 degree C: 1000hrs
Oxygen free copper leads
Red gloss sleeve with gold markings (non-ROHS)
Brown matt sleeve with silver markings (ROHS)
Subscribe to Hifi Collective