Audio Note Tantalum Non-magnetics Resistors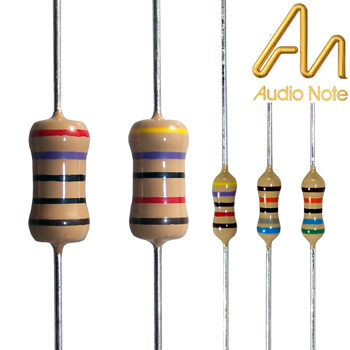 The all new  Tantalum resistors from Audio Note are similar to the old Shinkoh resistors in that they are non-magnetic, using a high copper content brass end cap with a tinned OFC copper lead out wire. We at Hifi Collective are proud to be the first component seller to carry stock of the entire range from 10R to 1M. We have stock of the 0.5W, 1W and 2Ws.
So how does the lack of magnetic material affect the sound you might ask?
Now those of you familiar with the old long discontinued Shinkoh resistors may have compared to the standard Audio Note, slightly magnetic versions, and may therefore be able to nod in agreement to my experience which is that the Shinkohs sounded more transparent, layered, subtle and elegant, so you may be pleased to hear the new non-magnetic AN tants add further texture, a darker background and an even greater sense of immediacy or believability, call it what you like, to what the already fine, but sadly unavailable Shinkohs offered. So the new non-magnetic Audio Note Tantalums are a genuine advancement rather than just a pure replacement. These have a tolerance of 1%.
The 0.5W version are £4.40 + vat each, the 1Ws are £8.40 + vat and.the new 2 watt versions are priced at  £12.50 to £17.50 each depending on the value, as their cost is considerably higher than the standard type. The range of the 0.5W version will be extensive to accommodate the values need to make stepped attenuators. 
DIMENSIONS:
0.5W version - BODY: diameter: 3.5mm, length: 10mm, LEAD: diameter: 0.7mm, length: 25mm
1W version - BODY: diameter: 6mm, length: 14mm, LEAD: diameter: 1mm, length: 35mm
2W version - BODY: diameter: 9mm, length: 18mm, LEAD: diameter: 1mm, length: 35mm
PRICE 1 off:
0.5W version:  £6.12+vat+p&p
1W version:  £11.86+vat+p&p 
2W version: 10R to 100K 2W values - £17.40+vat+p&p, 110K to 2M2 2W values - £24.36+vat+p&p
Subscribe to Hifi Collective