Audio Note Niobium Non-Magnetic Resistors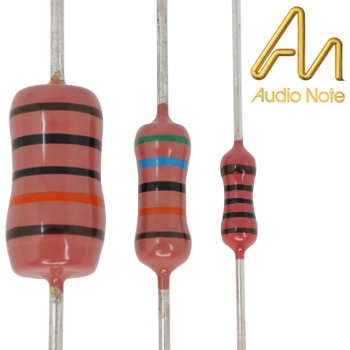 Audio Note has created a new range of resistors to add to their already expansive range of parts. Niobium Non-Magnetic resistors which are constructed of a Niobium resistive layer, rather than their usual choice of Tantalum.
Niobium has never been used in a resistor as far as we know. They looked at its properties and felt it was worth testing, and discovered that it is finer and more even sounding than Tantalum so they proceeded with production, starting with the 2W version. We now also have stock of the 0.5W version, with The 1W version is under development.
As is the case with all Audio Note resistors, they are manufactured using the sputter target process, which makes a much better sounding resistor but is also more difficult to use. Niobium is even harder to use than Tantalum as the temperature co-efficient of this material is far more difficult to control in production. 
Leadouts are nickel-plated copper.
0.5W version:
Available from 10R - 1M 
DIMENSIONS:
BODY: diameter: 3.36mm, length: 9.50mm
LEAD: diameter: 0.77mm, length: 36mm
TOLERANCE:
2%
PRICE 1 off
£7.80 +vat+p&p
1W version:
Available from 10R - 1M 
DIMENSIONS:
BODY: diameter: 5.21mm, length: 14.5mm
LEAD: diameter: 1mm, length: 35mm
TOLERANCE:
2%
PRICE 1 off
£14.20 +vat+p&p
2W version:
Available from 10R - 1M 
DIMENSIONS:
BODY: diameter: 9mm, length: 18mm
LEAD: diameter: 1mm, length: 35mm
TOLERANCE:
2%
PRICE 1 off
£22.50 +vat+p&p
Subscribe to Hifi Collective