Audio Note Silver Niobium Non-Magnetic Resistors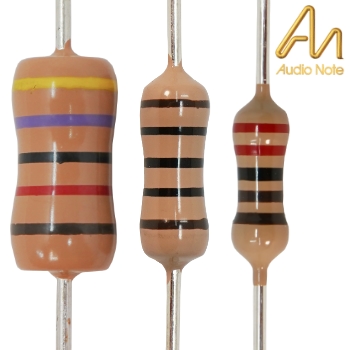 Audio Note resistors continue to evolve and this latest revolution combines two of the most premier materials, Silver and Niobium.
The combination results in a resistor that produces the finer sound coming from the Niobium body, coupled with the excellent sonic qualities of the silver leadouts. Using a solid silver end cap with pure solid silver lead-out wires.
0.5W version:
Available from 10R - 1M
DIMENSIONS:
BODY: diameter: 3.6mm, length: 10mm
LEAD: diameter: 0.8mm, length: 36mm
PRICE 1 off
£26.50 +vat+p&p
1W version:
Available from 10R - 1M
DIMENSIONS:
BODY: diameter: 5.3mm, length: 15mm
LEAD: diameter: 1mm, length: 36mm
PRICE 1 off
£37.50 +vat+p&p
2W version:
Available from 10R - 2M2
DIMENSIONS:
BODY: diameter: 9mm, length: 18mm
LEAD: diameter: 1.2mm, length: 37mm
TOLERANCE:
2%
PRICE 1 off
£46.50 +vat+p&p
Subscribe to Hifi Collective