Scanspeak D2010, 851300 Tweeter - Classic Range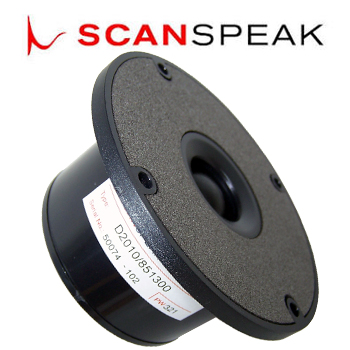 Replacement for Spendor S100 and ProAc 1SC, Response 2 & 2.5 amongst others.
Scanspeak D2010, 851300 Tweeter -  A Classic Range Tweeter. Textile diaphragm 3/4", hand coated, featuring a foam insert face plate. This reduces mechanical resonances, etc. Ferrofluid cooled.
This tweeter shows a very smooth response and wide dispersion, with high power handling. The optimized double chamber provides perfect tuning and damping. Acoustic damping of the diaphragm surround reduces distortion.
Sound reproduction is detailed and dynamic.
Specification:
Resonance frequency [fs] 800 Hz
Mechanical Q factor [Qms] 1.26
Electrical Q factor [Qes] 1.24
Total Q factor [Qts] 0.63
Force factor [Bl] 2.4 Tm
Mechanical resistance [Rms] 1.00 kg/s
Moving mass [Mms] 0.25 g
Suspension compliance [Cms] 0.16 mm/N
Effective diaph. diameter [D] 22 mm
Effective piston area [Sd] 3.8 cm²
Equivalent volume [Vas] 0.01 l
Sensitivity (2.83V/1m) 88 dB
Ratio Bl/√Re 1.01 N/√W
Ratio fs/Qts 1280 Hz
Electrical Data:
Nominal impedance [Zn] 8 Ω
Minimum impedance [Zmin] 6.4 Ω
Maximum impedance [Zo] 11.5 Ω
DC resistance [Re] 5.7 Ω
Voice coil inductance [Le] 0.08 mH
Power Handling:
100h RMS noise test (IEC 17.1)* 90 W
Long-term max power (IEC 17.3)* 150 W
*Filter: 2. order HP Butterworth, 4 kHz
Voice Coil and Magnet Data:
Voice coil diameter 19 mm
Voice coil height 3.1 mm
Voice coil layers 2
Height of gap 2 mm
Linear excursion ± 0.7 mm
Max mech. excursion ± 1.2 mm
Unit weight 0.4 kg
PRICE (1 off)
£58.09 +vat+p&p
Subscribe to Hifi Collective