ScanSpeak D3004, 660000 Tweeter - Illuminator Range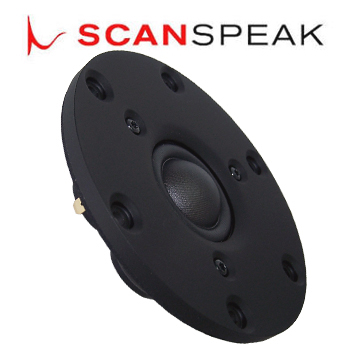 The Illuminator tweeters stand for superb vocal rendition and excellent imaging at all listening locations. Its large roll surround and textile dome diaphragm provides a flat frequency response to above 30KHz with outstanding off-axis dispersion. The unique AirCirc Magnet System, and its rear chamber, results in elimination of reflections and resonances that compromise the performance of traditional motors.
This tweeter features a 1" Textile dome, patented symetrical drive (SD-2) motor, Die cast rubber painted aluminium face plate, a large roll surround for wide and even distribution and AirCirc motor design with 6 Neo Magnets.
Specification:
Resonance frequency [fs] 470 Hz
Mechanical Q factor [Qms] 3.0
Electrical Q factor [Qes] 0.59
Total Q factor [Qts] 0.49
Force factor [Bl] 2.3 Tm
Mechanical resistance [Rms] 0.3 kg/s
Moving mass [Mms] 0.35 g
Suspension compliance [Cms] 0.33 mm/N
Effective diaph. diameter [D] 30 mm
Effective piston area [Sd] 7.0 cm²
Equivalent volume [Vas] 0.02 l
Sensitivity (2.83V/1m) 91.5 dB
Ratio Bl/√Re 1.33 N/√W
Ratio fs/Qts 959 Hz
Electrical Data:
Nominal impedance [Zn] 4 Ω
Minimum impedance [Zmin] 3.5 Ω
Maximum impedance [Zo] 18.4 Ω
DC resistance [Re] 3 Ω
Voice coil inductance [Le] 0.03 mH
Power Handling 100h RMS noise test (IEC 17.1)* 90 W
Long-term max power (IEC 17.3)* 150 W 
*Filter: 2. order HP Butterworth, 2.5kHz
Voice Coil and Magnet Data
Voice coil diameter 26 mm
Voice coil height 2.1 mm
Voice coil layers 2
Height of gap 2.5 mm
Linear excursion ± 0.2 mm
Max mech. excursion ± 1.6 mm
Unit weight 0.3 kg
PRICE (1 off)
£149.01 +vat+p&p
Subscribe to Hifi Collective