Scanspeak D3004, 602000 Tweeter - Illuminator Range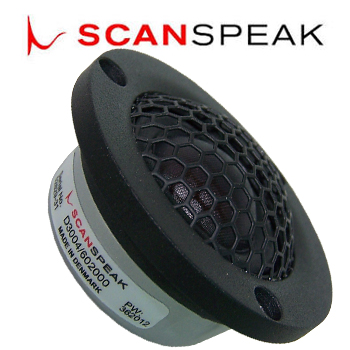 Very compact and excellent for small speaker systems and car audio applications. 3 mounting holes. Black die-cast anodised aluminum face plate and black protective grille over the 1" textile dome.
This tweeter features the "SD-2" Neodymium large magnet symmetric drive motor system. Excellent wide dispersion from the large roll surround. These compact tweeters are fully comparable both in sound output and quality to the larger members of the Illuminator or Revelator ranges.
Specification:
Resonance frequency [fs] 700 Hz
Mechanical Q factor [Qms] 4.15
Electrical Q factor [Qes] 1.60
Total Q factor [Qts] 1.15
Force factor [Bl] 1.7 Tm 
Mechanical resistance [Rms] 0.4 kg/s
Moving mass [Mms] 0.35 g
Suspension compliance [Cms] 0.15 mm/N
Effective diaph. diameter [D] 30 mm
Effective piston area [Sd] 7 cm²
Equivalent volume [Vas] 0.01 l
Sensitivity (2.83V/1m) 89.2 dB
Ratio Bl/√Re 0.98 N/√W
Ratio fs/Qts 606 Hz
Electrical Data:
Nominal impedance [Zn] 4 Ω
Minimum impedance [Zmin] 3.5 Ω
Maximum impedance [Zo] 10.8 Ω
DC resistance [Re] 3 Ω
Voice coil inductance [Le] 0.02 mH
Power Handling:
100h RMS noise test (IEC 17.1)* 50 W
Long-term max power (IEC 17.3)* 130 W
*Filter: 2. order HP Butterworth, 2.5 kHz
Voice Coil and Magnet Data: 
Voice coil diameter 26 mm
Voice coil height 2.1 mm
Voice coil layers 2
Height of gap 2.5 mm
Linear excursion ± 0.2 mm
Max mech. excursion ± 1.6 mm
Unit weight 0.15 kg
PRICE (1 off)
£80.56 +vat+p&p
Subscribe to Hifi Collective