Elekit TU-8100 PCL86 Single Stereo Power Amplifier Kit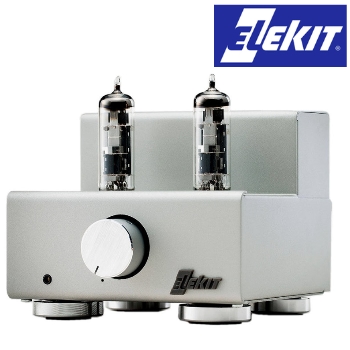 Elekit's TU-8100 is a compact single stereo power amplifier kit featuring one PCL86 (14GW8) a rugged pentode/triode valve. Low cost and an excellent starting point for people who are keen to build some valve equipment.
This amplifier is equipped with 2 line input terminals. A high-sensitivity stereo mini 3.5mm socket on the front panel can be directly connected to a portable music player and a pair of  LINE IN (RCA) sockets.
The power supply is a low noise inverter circuit and is powered by a 12Vdc, 4.17A external power supply unit that can receive 100Vac - 240Vac, 50/60Hz  so it can be used anywhere in the world.
With a simple modification on the PCB, ECL86 (6GW8) can also be used instead of PCL86 (14GW8) regardless of the voltage difference.
The amplifier is equipped with a circuit to enable a soft-start for the heaters and then a delayed HT power supply switch on. This greatly improves valve life. For safety the circuit monitors 6 key voltages and shuts down both the heater and the B-power source when there is a problem, this is indicated by flashing LED.
The valves are covered by tube protectors made from high-temperature resistant Nylon 66. The protectors prevent the user from touching the hot tubes and also protects the tubes from mechanical breakage and lower the possible resonances.
Specifications:
Vacuum tube: PCL86 x 2pcs (supplied with kit)
Rated output: 2W + 2W
Rated input: 500mV(INPUT-1), 150mV(INPUT-2)
Frequency response: 23-33,000Hz
Residual noise: 40mV
Corresponding speakers: 4-8ohm
Output terminal: Binding terminal (Banana plug can be used.)
Supply voltage: DC12V, approx.2A(fixed)
AC adapter: World compatible 12V@4.17A Switch mode power supply
Dimension: W142xH136xD178mm (including projections)
Weight: Approx.1.8kg (excluding AC adapter)
Price (1 off, excluding VAT & P&P) supplied with IEC lead (terminated with Japanese mains plug)
TU-8100 - £235.00
---
See our instructional Youtube videos below on how to construct the Elekit TU-8100 kit
Subscribe to Hifi Collective