Elekit TU-8500 Tube Pre-amplifier Kit with Phono Stage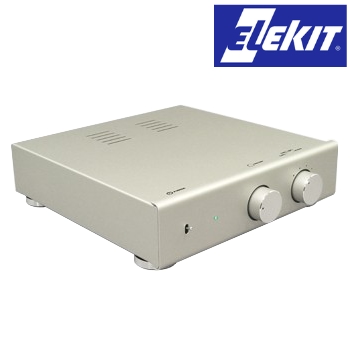 Elekit's DIY pre-amplifier with Phono Stage offers amazing performance in such a small package. Featuring a precision phono stage RIAA equalization (CR not NF) supports both MM and MC cartridges. Two low noise OPAMPS (NJM2068DD) are used in the phono stage. The OP-AMPS are socket mounted making OP-AMP switching easy.
Two 12AU7 (ECC82) tubes are used in the line amp stage. The gain is switchable (Approx 1x to 3x). Reduced hum/background noise circuitry includes a low flux leakage R-core transformer, a FET ripple filter for B-power and the tubes are powered by the DC power supply.
Sufficient space has been provided on the PCB for the substitution of larger coupling capacitors facilitating upgrading parts. The kit supports 4 different AC input voltages. 100Vac, 115Vac, 200Vac and 230Vac so it can be used anywhere in the world.
It is an ideal complement to the TU-8200 power amp, sharing the same size footprint.
Specifications:
Stock tube: 12AU7 (ECC82) x 2pcs
OPamp: NJM2068DD x 2pcs
Input terminal: RCA jack 4 lines (PHONO, LINE 1-3)
3.5mm stereo jack 1 line (LINE3 priority)
Output terminal: RCA jack 1 line (PRE OUT)
Power voltage: AC 100V 50/60Hz IEC standard inlet
* Select from 100V, 115V, 200V, and 230V upon assembly
Power consumption: 8W
Dimensions: W252 x H73 x D270 mm (excl. projections)
Weight: Approx.3.1kg (Assembled, excl. power cord)
Line Amp Stage
Gain: x3.1(9.8dB) / x1.15(1.2dB)
Frequency response (-3dB): 2Hz-70kHz / 2Hz-280kHz
SN ratio (IHF-A): 122dB / 129dB
Max.output voltage: 22V rms (1kHz)
Phono Stage
RIAA equalization: ±0.5dB tolerance (20Hz-20kHz)
Cartridge: MM (LOW) / MC (HIGH) switchable
Gain (1kHz): [MM] 37dB / [MC] 63dB
SN ratio (IHF-A): [MM]108dB / [MC]88dB
Input resistance: [MM] 50kΩ / [MC] 100Ω
Max.output voltage: 7.4V rms (1kHz)
Price (1 off, excluding VAT & P&P) supplied with IEC lead (terminated with Japanese mains plug)
TU-8500 - £425.00
---
Please take a look at our instructional Youtube series on building this Pre-amp
Subscribe to Hifi Collective