audioXpress: April 2004, vol.35, No.4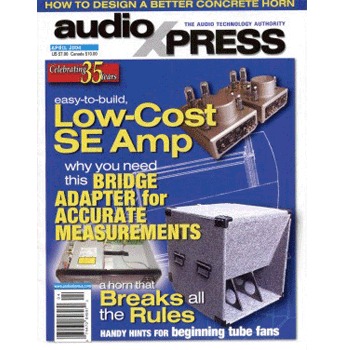 A MINI SE AMP 
Keeping things small and inexpensive - and at the beginner`s level - this author shows you how to build your own SE amp. By Rick Spencer
A BRIDGE ADAPTER 
This is a useful device for amplifier measurements at very low distortion levels. By Dick Crawford
AN EXPERIMENTAL THROAT MODULE 
This author examines how throat, mouth and driver dimensions affect the sound of a concrete horn. By Robert Roggeveen.
BORBELY-CLOW SUPER BUFFER 
This buffer is super because it`s so versatile, produces HQ sound & you can build it yourself. By Sherm Clow
THE TUBA 24 HORN 
Portable enough to take on the road with you, this pro-sound horn-loaded sub can also be a good match for your home setup. By Bill Fitzmaurice
TUBE AUDIO CONSTRUCTION TIPS, PT.1 
Follow this authors advice for purchasing tubes as your first step in building your own quality amp for under $40. By Graham Dicker
ALESIS ML-9600 MASTERING RECORDER 
Mix and master with the Masterlink recorder from Alesis. Review by Charles Hansen.
BOOK REVIEW 
Audio Transducers, reviewed by Dick Campbell
BOOK REVIEW 
Op Amp Applications, reviewed by G L Augspurger
NEW CHIP ON THE BLOCK 
Analog Devices AD5241/2 and Wolfson WM8816 and WM8722, by charles Hansen
SHOWCASE 
A Dutch Tube Amp, by Bert Fruiterna
ASK aX 
Formula Search, by G L Augspurger
KEY TOPICS
A mini SE amp
Disortion meter
Horn loaded sub
Tube audio construction
Alesis ML-9600 review
Super buffer
BOOK SPECIFICATION
paperback
black and white print
72 pages
205mm x 267mm
170g
Price; £5.50 +vat +p&p
Subscribe to Hifi Collective