audioXpress: December 2004, vol.35, No.12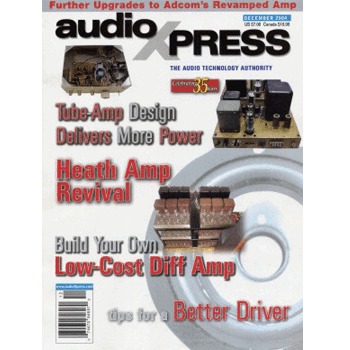 SINGLE-ENDED TO DIFFERENTIAL MODE MADE EASY 
The author invites you to join the "big league od sound reproduction" with this high-power tube amplifier configuration. By Norman Thagard.
H.V. DIFFERENTIAL AMPLIFIER 
You can`t beat the price of this do-it-yourself high voltage differential amp project for your measurement work. By Charles Hansen
GFP-565 PREAMP FOLLOW-UP MOD 
Here`s an upgrade to a four-part series that dramatically improves the performance of the Adcom GFP-565 preamp. By Gary Galo
THE GALO-MODIFIED GFP-565 PREAMPS - A SONIC EVALUATION 
By Lorelei Murdie
REBUILD A CLASSIC: HEATH`S W-5M 
Follow these tips to bring new life to the venerable Heath W-5M amp. By Bruce Brown
SONIC COMPARISON OF POWER AMPLIFIER OUTPUT VS INPUT 
This simple test method is "beyond compare" in determining a power amp`s I/O signal. By Dennis Colin
REMAKING TANG BAND`S W3-8881S 
This article focuses on the cone driver as the key to improved loudspeaker performance. Bt Mark McKenzie
2004 Index 
Listings this past year`s articles by category and author.
NEW CHIP ON THE BLOCK 
D2Audio Class D Audio modules by charles Hansen
KEY TOPICS
H.V. differential amplifier
GFP-565 modified
Rebuilding Heath W-5M
Remaking Tang Band`s WS-881S
SE to differential mode made easy
D2Audio Class D Audio Modules
BOOK SPECIFICATION
paperback
black and white print
72 pages
205mm x 267mm
170g
Price; £5.50 +vat +p&p
Subscribe to Hifi Collective