KLE Innovations Pure Harmony RCA Plug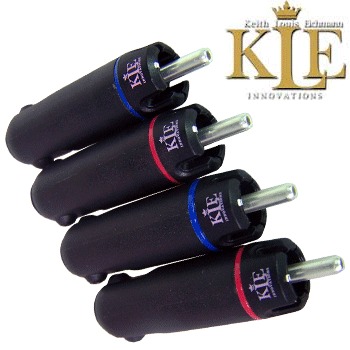 The Harmony® Plug is a new revolutionary approach to Keith Louis Eichmann's (aka KL) previous Bullet Plug design, which itself was a revolutionary approach to Phono/RCA connection. It represents a wholesale rethinking of something as basic as the venerable Phono/RCA plug; a connector designed over Sixty years ago by The Radio Corporation of America (RCA). It is KL's contention that the Phono/RCA plug in its current configuration is the standard connector in the audio/video industry not because it is the best possible choice for its intended use, but more by reason of default and its ultimate potential.
The Pure Harmony version is the top level of the 3 new Harmony plugs. In simple terms all contact material is pure silver. 

Pure® Harmony Plug Comparison / Improvements… The following are the improvements that Keith Louis Eichmann (aka KL) has made to the Pure® Harmony Phono/RCA plug design when compared to his previous Bullet® Plug design... 
 
Specifications
Signal/Ground pins are pure Copper/Silver and >106% IACS.
Signal/Ground pin optimization to enhance electron flow, in accordance with KL's Pure Copper/Silver Signal/Ground formula.
Signal/Ground pins are now much stronger and shaped like a tag, which makes soldering small/large/multiple wires, very easy.
Signal/Ground Anti-Short shield has been added between the Signal/Ground solder tags.
Signal/Ground pins are arranged to maintain a maximised distance from each other, and the utilised foil technology ensures that Capacitive, Inductive, and EMF effects are minimized.
The Head Assembly jaw structure has been redesigned and mechanically improved, to allow an easy snap-like connection to a Phono/RCA socket, ensuring the ultimate connection with easy removal.
Ground pin includes thread teeth which ensures that a metal Housing is star-point grounded.
The Housing Assembly uses 2 screws to retain and secure the Cable.
Extremely high temperature melting point thermoplastic polymer has been utilized.
Cable entry diameter
You can see from the "dis-assembled view" picture (see link below) that the plug comes with a detachable rubber grommet. This grommet sits at the cable entry end and has a hole of diameter 3.5mm. This can be removed giving a overall cable entry of 9.5mm.
Price:
Pack of 4 plugs, 2 marked blue, 2 marked red (pink KLE logo) - £79.16 + vat
Subscribe to Hifi Collective